Creonic Enables High-speed Downlinks for Aquila Space's Nanosatellites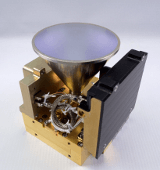 Kaiserslautern, Germany, Aug. 28, 2015 – Creonic announced today the successful product cooperation with the satellite supplier Aquila Space. Aquila Space will provide a daily multi-spectral satellite imagery through their Landmapper constellations.
A new type of Ka-Band transmitter had to be developed, in order to send the data produced by the multi-spectral camera to earth and to fit to the need of a small power consumption, while maintaining a high throughput in nanosatellites.
Creonic provides an efficient IP core to transmit UDP packets over a DVB-GSE and DVB-S2 link from space to earth. The solution includes UDP/IP packing into DVB-GSE and framing, coding and modulation according to DVB-S2. For a maximized flexibility and efficiency in throughput, seamless rate adaptation is included, providing a throughput up to 40 Mbps. For more information check out Aquila's latest presentation given at the AIAA Small Sat Conference or at www.aquilaspace.com.
Creonic and Aquila Space are looking forward to continuing their work, in pushing the throughput above 300 Mbps, designing the fastest Ka-Band transmitter for nanosatellites, by the end of 2015.
About Aquila Space

Aquila Space is an innovative Silicon Valley startup that has developed Nanosatellite platforms for earth observation applications. These satellites will form the LandMapper constellation providing daily multi-spectral images of all arable land globally. Aquila Space will sell the LandMapper imagery data directly and through its reseller network as well as satellites and satellite sub-systems in support of customer missions. The first LandMapper satellites will be launched in early 2016.