Creonic Announces FMC Board with L-Band RF Input for Satellite Applications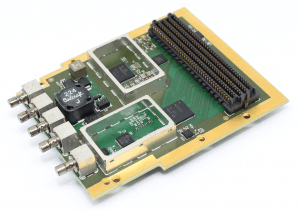 Kaiserslautern, Germany, Jan. 09, 2017 – Creonic GmbH, the market leader in satellite communication IP cores, today announced the availability of its FMC board with L-band RF input for Q2/2017. The card allows for building satellite receivers with throughputs of up to 800 Mbit/s. It complements Creonic's proven portfolio of IP cores covering a wide range of standards for satellite communication such as DVB-S2X, DVB-RCS2 or CCSDS.
FPGA Mezzanine Cards (FMC) are daughter cards that can be plugged into existing FPGA carrier boards with FMC connector. The Creonic FMC board is compliant with the VITA 57.1 FMC standard. It can be used with high pin count (HPC) as well as low pin count (LPC) connectors. The board is compatible with any FPGA FMC carrier board that can work with 1.8V low power IOs.
The receiver board includes an L-band tuner chip that can choose from an arbitrary center frequency within the L-band (925 – 2,250 MHz). The baseband bandwidth is programmable from 40 to 100 MHz. The used dual-channel 12-bit ADC allows for sampling rates of up to 250 MHz of I/Q data. It is possible to control LNBs with the integrated DiSEqC block. The board offers flexible clocking capabilities.
The PCB comes with an FPGA reference design for Xilinx FPGAs in VHDL, C++ software firmware as well as comprehensive documentation.
Learn more about the Creonic FMC L-Band RF Receiver

Browse our website or contact our sales team under
sales@creonic.com