Creonic Selected for German Silicon Valley Accelerator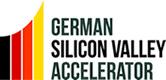 Kaiserslautern, Germany, Jan. 20 2014 – The German Silicon Valley Accelerator (GSVA) selected 12 start-up companies from all over Germany to take part in the acceleration program in Silicon Valley. Supported by the German Ministry of Economics and Technology, the young companies receive the chance to succeed in Silicon Valley and thereby extend their global operations.
GSVA's network is perfectly positioned in the intersection between Silicon Valley innovators, Venture Capitalists, the best German start-ups and a top-class committee of experts. This was especially evident during the "Celebrating Innovation" winners' party at which big international names of the venture capital scene were present. Peter Hornik, Managing Director of the mobile internet incubator 1stMOVER and local hero, was enthusiastic about Celebrating Innovation and compared the series with the "Champions League" of the German start-up scene.
Dr. Timo Lehnigk-Emden, CEO and co-founder of Creonic, is pleased: "Creonic was selected for the Accelerator from over 70 applications. This success emphasizes the high level of innovation of our company. We are excited about the opportunity to stay in Silicon Valley for months and get access to GSVA's network."
Please contact us if you want to get in touch with us in Silicon Valley!


About the German Silicon Valley Accelerator
The German Silicon Valley Accelerator (GSVA) is a three to six-month acceleration program for German startups (focus: ICT and Cleantech related IT) in the heart of Silicon Valley. It is supported by the German Federal Ministry of Economics and Technology (BMWi), and a variety of private sponsors and partners. Its vision is to establish a permanent bridge between Germany and Silicon Valley that facilitates transatlantic startups, provides inspiration and drives demand, innovation, research and development in Germany. Participation in the program is free of charge for all selected companies. For more information visit http://germanaccelerator.com.