The European Project « VERTIGO » Concluded with Telecom Data Transmission on a Laser Link at Record High Power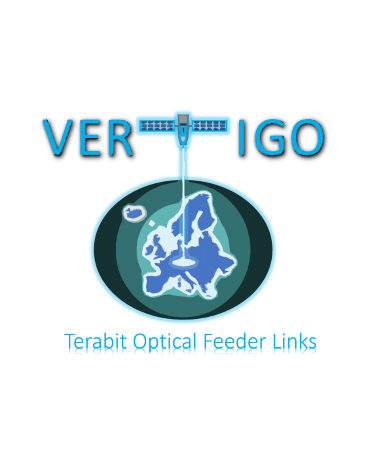 Kaiserslautern, Germany, June 13, 2023 – Creonic GmbH and its project partners are pleased to announce that the H2020 VERTIGO project has concluded with the successful demonstration of a high-power optical data transmission system at the Thales laboratory in Palaiseau, France .
This is a key success for the development of future geostationary communication satellites using optical feeder links to significantly increase the capacity. These solutions will play a key role to bridge the digital divide and offer broadband connectivity for all by 2025. The objective is also to boost satellites capacity in order to reduce the number of satellites required to meet the users demand.
In this frame, Creonic, Gooch & Housego, Leo Space Photonics R&D, Thales Alenia Space, and Thales, demonstrated the generation and transmission of optical communication signals carrying data at 25 Gbps in a controlled environment at a record breaking optical power of 97 W opening the way to 100W-class transmissions. Following the outdoor trials of free-space optical links in Summer 2022, which notably demonstrated a record transmission at 1 Tbps over an atmospheric optical path of 53 km, the laboratory test campaign performed in Thales Research and Technology facilities concludes the VERTIGO project with a new record.
By leveraging innovative FEC algorithms and advanced interleaving techniques, Creonic's technique exploits the channel capacity of the fast power fading channel, ensuring seamless connectivity even in challenging environments. The micro-chips design is implemented on a AMD Xilinx high-end FPGA platform to demonstrate the capabilities. Creonic plans to provide an off-the-shelf solution for ASIC and FPGA technologies in 2024.
To capitalize on the results of the VERTIGO project, the next step will be to target a full-scale coherent laser link between a geostationary satellite at an altitude around 36.000 km and a ground station.
About the H2020 VERTIGO project
VERTIGO (Very High Throughput Satellite-Ground Optical link) is a H2020 collaborative project, launched on June 1st 2019 and completed at the beginning of 2023, demonstrating concepts allowing for a significant capacity increase of feeder links through the use of state-of-the-art optical technologies.
VERTIGO address the key enabling technologies (high optical power generation, high efficiency waveforms, atmospheric impairments mitigation) for the implementation of high-throughput optical links and assess them in ground indoor and outdoor demonstrations thanks to a fully complementary consortium composed of CREONIC GmbH, ETH Zürich, Fraunhofer HHI, Gooch and Housego (G&H), LEO Space Photonics R&D, ONERA, Thales Alenia Space in France and Switzerland and Thales Research & Technology. This project received funding from the European Union's Horizon 2020 research and innovation programme under grant agreement No 822030.
Learn more about the Horizon 2020 VERTIGO Research Project

DOWNLOAD AS PDF FILE

SHARE OUR NEWS AND FOLLOW US!